For those times a traditional tow truck isn't going to cut it we deploy late model well-maintained flatbed tow trucks loaded with the latest towing equipment. Flatbed towing is highly recommended for tows over 10 miles as it's much easier on and safer for your vehicle.  A quick visual of various towing methods is all most people need to understand the superiority of flatbed towing as the car remains situated horizontally and securely in place throughout its trip.
Fast Affordable 24hr Flatbed Tow Trucks
While they can be used in a vast array of towing situations we find that most conscientious vehicle owners use our fast affordable 24hr flatbed tow trucks for the following vehicles:
Vintage Automobiles
Sports Cars
Luxury Cars
Motorcycles & Scooters
Vans & Minivans
Cargo Trucks
Bobcats
Forklifts
Construction Equipment & Heavy Machinery
This certainly doesn't encompass all the uses for flatbed tow trucks so feel free to ask us when it's in your vehicle's best interest.  Our flatbeds are available 24 hours a day, 7 days a week and their certified towing operators are fast, efficient and friendly.
Low Clearance Flatbed Tow Trucks
For the times that space is an issue or when you want to have your vehicle handled with the utmost care we have our low clearance flatbed tow trucks. Their ability to get lower to the ground provides for less stress as your vehicle is lifted on to the flatbed. A favorite among our vintage and high-end vehicle owners.
Extra Wide Flatbed Tow Trucks
Looking for an extra wide flatbed tow truck? We can do that too.  Our extra wide trucks are perfect for commercial vehicles including box trucks, ambulances, mail trucks and much more.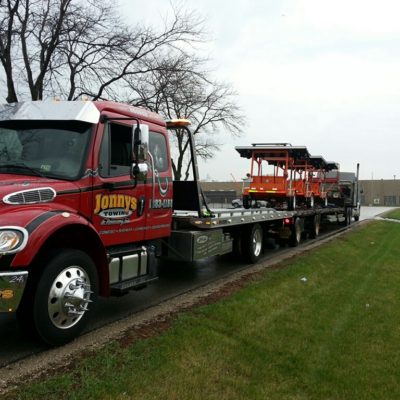 ---